22 Sep

Antelogos & Alchemystic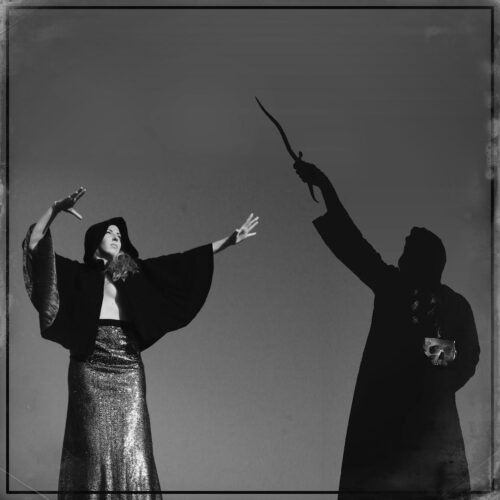 The Sacred Music of Chaos
This live distilled dark ambient immersion lays the foundation of a ceremonial psychodrama with a strong shamanic taste. Evolving sound textures and percussion merge with unearthly chants. The Traveller is led through corridors of Visions as the Ritual unfolds in the intense sophistication of a journey outside the reality of appearances. Pushing further into the poetry of mind-bending formulas Antelogos and Alchemystic will reveal the Sacred Tradition to those dreamers who salute their true will.
Collective multi-sensory experience: responsible participation required. You may chant and bring your own percussion instruments.
Antelogos
Antelogos is an esoteric order dedicated to the celebration of the ancient mysteries and ceremonies of the Left Hand Path: rituals and chants, invocations and prayers, hymns to Satan, distortion of the primordial vibration.
Dimitar Dimitrov, the shadow behind Antelogos is also editor of La Voix de Satan zine, a printed publication devoted to old and new magical topics such as spirituality, alternative culture, extreme arts, esoteric Satanism and diabolic illustrations.
Graduated from the School of Architecture of Marseille, France, he is a pluridisciplinary artist, writer and musician (Corpus Diavolis, Haiku Funeral, Antelogos). Black metal veteran, he later evolved into dark ambient and more experimental spheres of ritualistic composition.
Dimitar is part of the free-thinking satanic collective AMSG (Alliance Mystique de Satan Glorifié) based in the South of France. The publications of AMSG are available at www.gloireasatan.com.
https://antelogos.bandcamp.com/
https://www.instagram.com/lavoixdesatan
Alchemystic
Traditional witchcraft practitioner and medium, Iris Hélinac, the entity behind Alchemystic, is based
in Southeastern France. She is also an artisan perfumer who makes mystical and esoteric fragrances
and author/illustrator of 15 oracle decks, both edited (Trédaniel) and self-edited.
www.irishelinac.fr
www.etsy.com/fr/shop/IrisHelinac
https://www.instagram.com/_alchemystic_