27 Aug

Chiara Dalla Costa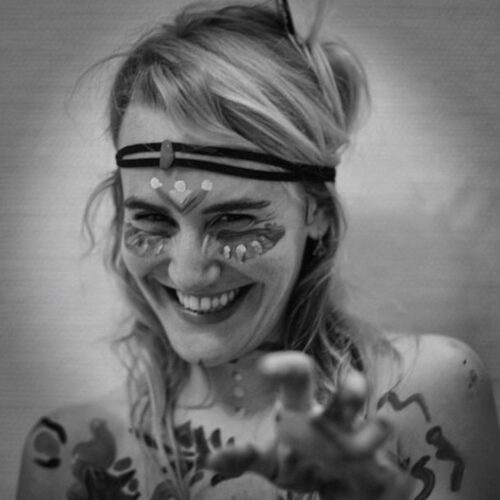 Tiny Mystic Creatures as Tiny Mystic Tarot
'Tarot contains and expresses any doctrine to be found in our consciousness. It represents Nature in all the richness of its infinite possibilities, and there is in it as in Nature, not one but all potential meanings. And these meanings are fluent and ever-changing, so the Tarot cannot be specifically this or that, for it ever moves and yet is ever the same.'
P.D. Ouspensky 'The Symbolism of Tarot
Tiny Mystic Tarot are the interpretation of the 22 Major Arcana through Tiny Mystic Creatures. These are Creatures living in the Black Lake, part of Chiara's Underworld. They showed up in her visionary journeys and found their way out in the form of illustrations. Specifically, here is the reimagination of the Tarot Major Arcana.
'When I start drawing a Mystic Creature the eyes are always what comes first to the surface. After the first draft everything is realized directly ink on paper. This technique taught me that there is no wrong line, everything is gonna be integrated in the final drawing. Also, this allowed me to embrace the fact that in the creative process, as in life, you can never go wrong. All is how it is meant to be.
The creation of each Arcana has been for me a very special journey of connection with the Archetypes contained within.'
Chiara Dalla Costa is an Italian Artist currently based in Berlin.
She moved to the "poor but sexy" in 2017 because of a job as architect.
Since then, she expanded her work into graphic design, illustrations and started creating her own Art.
The big shift in her life began during Covid-19.
Synchronicities started to occur and during the time spent at home or in the woods she started adventuring in the Above/Below and Within Worlds while exploring the topics that are now dearest to her. Few of them are: occultism & divination tools, astrology, art therapy, breathing and meditation practices, divine feminine.
Her passions for these topics were fostered by lots of readings.
Three very special books could describe at the best some turning points in her life.
'The Artist's way' from Julia Cameron let her really connect with the Creative Source present within all of us.
Her creative flow took off some extra layers and her visions started taking various forms of Art.
The very first curiosity towards Tarot was aroused by the book: 'The Castle of crossed destinies' from Italo Calvino.
Alongside that, a very special book about Runes was given to her. Divination practices started to become present in her everyday life.
Another fundamental book for her self-discovery was 'Feeding your Demons' from Tsultrim Allione.
This book opened up her path to shadow work. Fears are friends and with this knowledge a lot of power is liberated.
All these and way much more contributed to the birth of her first and dearest Art Project: Tiny Mystic Creatures.
Tiny Mystic Creatures are guides, protectors, teachers, friends, healers, mentors, spirits.
They first showed up to her in a dream and then started to take shape on the paper.
At this moment of Chiara's path, Art is unraveling as mixed media such as installations, performances, collages, illustrations, workshops (women body painting circle and new moon visionary collage).
@tiny.mystic.creatures
https://www.instagram.com/tiny.mystic.creatures/