19 Aug

Darkam Arcadia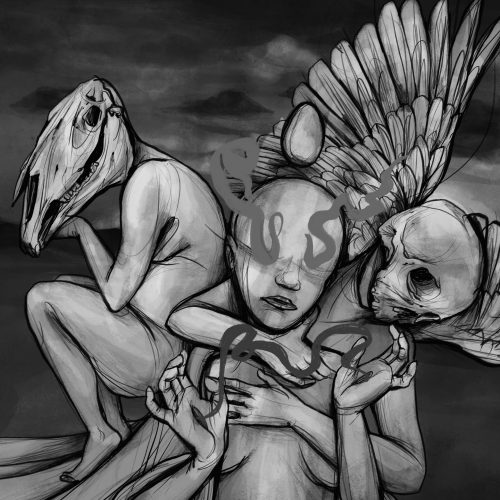 The Seventh Eye, Seeing the Invisible.
Often my pictures initiate with a vision during meditation or induced trance states.
Drawing is ingrained in my spiritual practice as it speaks the archetypical language of dreams.
The drawing practice is the athanor where the elements get mixed and turn into their new shape, into a story I can grasp.
Drawing is one of my ways to create communication between my subconscious and other planes, bypassing the rational mind. It is talking with my guides.
It also shows me what I don't want to see, sometimes recurring elements come back in the pictures, pointing out what I should work on, the same way that tarot cards do.
When I started my magical journey, more than ten years ago, chaos magick thought me how to work with what resonates with me, that there are no rules, no dogma. But my focus has never been on obtaining things, but on communication with the invisible, tuning in with higher messages.
It is through the hermetic philosophy, meditation, the eastern spiritual teachings of yogis, and the work with shamans and their medicines that I shaped my practice and my learning path.
Because magic, for me, is about growing, shaping new senses, and expanding, to see the invisible.
Darkam Arcadia (Eugenia Monti) is an Italian artist based in Berlin.
She works with graphic novels, and illustrations but also with the skin, as a tattooist and Body Suspension facilitator with the project Santa Sangre Body Rituals.
Her research has always been connected with the body, through the flesh, by piercing it, getting the light in. Working with blood as a carrier of life and ancient messages, Body Suspension, and the state reached through it.
Part of her art is done on the skin, in tattooing, the pictures are charged with blood and they can become powerful tools.
She recently released a graphic novel "Dietro agli occhi" (Behind the Eyes) published in Italy by Progetto Stigma/ Eris Edizioni.
Among her latest published works, there is the illustrated book I Sarti del Sonno (Blu Gallery) and the graphic novel Piena di Niente (with Alessia De Giovanni, for Becco Giallo Edizioni)
She has exhibited her work internationally, in Berlin at Cell64 Gallery, in Italy at Blu Gallery, in London, Paris, Rome, and Rotterdam but also in Mexico, where her solo exhibition Santa Sangre (Museo Casa del Cabellero Aguila in Cholula) was held.
Www.darkam-arcadia.com
Www.instagram.com/darkam_arcadia