24 Sep

Elisa Lo Presti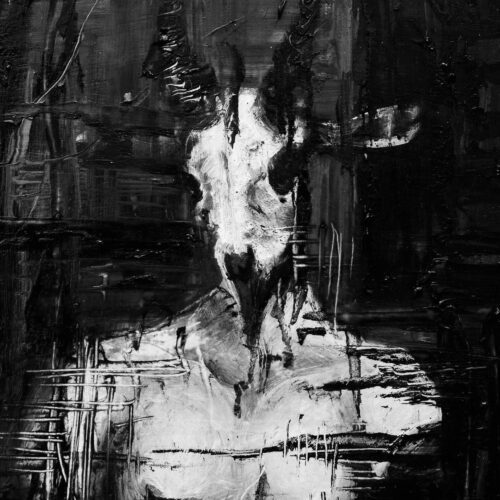 Shadow Creatures – Red Right Hand Atelier 
The Dark always hides something interesting.
The shadow creatures are "moments" that would have remained invisible if left there, in the dark, but which a momentary glow of a light, emerge from the canvas and show different worlds.
Elisa's Shadow Creatures are born from chance, from the old canvas painted in black and from successive veils of distracted fog, first white, then gray, then only dirty water.
while it dries, the greyness leaves an interpretable trace and from there, a profile, a face, a ghost, a character is born and therefore a story.
The Shadow Creatures should be painted like this, casually, emptying the mind of the project and relying on chance.
Born in 1980 in Turin, she manifests that profound artistic vocation that characterizes the consistency of her choices since her youth when she graduated first from the Art School and then from the Academy of Fine Arts with the title of Restorer of Cultural Heritage.
Thirteen years of experience as a restorer.
In 2016 the change, the obsession with the "emotional brushstroke" and painting became his first activity, independent painting.
And it is precisely the independence that characterizes her artistic career because there are no intermediaries here, she travels with her ArtStand loaded on the van and participates in fairs and many Rock, Goth, Pagan and esoteric festivals, to have a close relationship with his audience and allow his paintings to accumulate kilometers, stories, dust and music. Restoration has remained a very useful constant because Elisa recovers almost all of her materials and makes them up.