31 Aug

Erica Lagalisse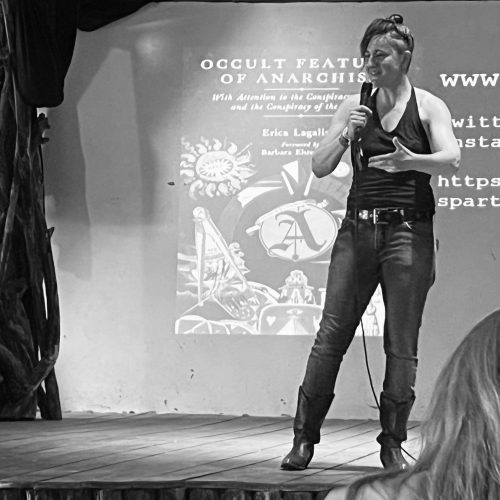 Occult Features of Anarchism
By exploring hidden correspondences between classical anarchism, Renaissance magic and New Age movements, Lagalisse questions Leftist attachments to "secular" politics, in which cosmological premises have simply been mystified.
Inspired by anthropological fieldwork within contemporary anarchist movements, Lagalisse challenges "atheism" among today's anarchist activists insofar as it poses practical challenges for anti-colonial coalition politics, while her book also works to intervene in debates around "conspiracy theory" by illustrating the actual relationship between revolutionism, pantheistic occult philosophy, and the clandestine fraternity or "secret society".
By studying anarchism as a historical object, Lagalisse also shows how the development of Leftist theory and practice within clandestine masculine "public" spheres continues to inform 21st century anarchist understandings of the 'political', in which men's oppression by the state becomes the prototype for power in general.
We come to behold how both gender and religion became "privatized" in radical counter-culture, with this historical process being in dialectic with the "privitization" of gender and religion by the modern nation-state (as above, so below).
Erica Lagalisse is an anthropologist, writer, and postdoctoral researcher at the International Inequalities Institute of the London School of Economics and the Anarchism Research Group at the University of Loughborough.
She is also an editor at The Sociological Review, and author of Occult Features of Anarchism – With Attention to the Conspiracy of Kings and the Conspiracy of the Peoples (PM Press, 2019). She can be found at:
www.lagalisse.net