28 Sep

Finn Darrell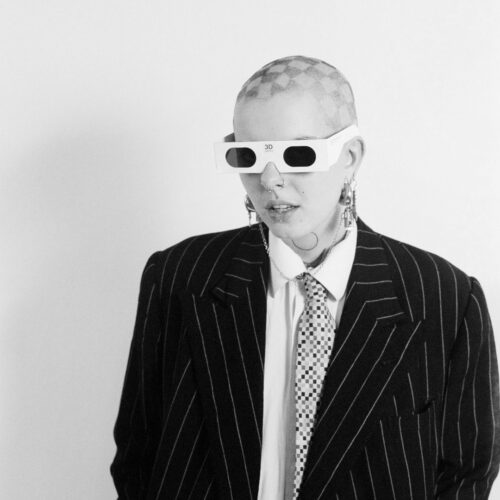 Muntjac – magnifyied performance art and surrealist cinema
Sinus searches for his missing twin; Möbius. Befriending Hiccup, a cool-headed vagabond, the pair set off on the quest, eventually stumbling into 'The Garden'. Amongst the topiary, they meet a band of whimsical characters; Queenie, Rebel, and the Fool – who join the search for his twin.
At the door of an ancient forest, Sinus loses his newfound friends, and descends into a frenzied trip towards the depths of his psyche. Blind wizards, clouds of bees, and giddy demons – all manner of evils await him in the shadows. In this darkness, will he ever find the elusive Möbius?
Finn Darrell was born in Essex, England and is an artist with a diverse array of mediums and interests. They have skills as a photographer, filmmaker, performer, fashion designer and makeup artist.
Finn has studied animation at University of the Arts London and have a BsC in psychology from King's College London. Over the pandemic, Finn wrote, produced, and shot their debut short film, 'Muntjac', which has screened at various film festivals this year. In 2021 they moved to New York, where they continued their development as a filmmaker, studying screenwriting and directing at The New School. Finn now resides just outside London, where they are currently working on a transcendent stained-glass window for an upcoming group exhibition in Paris.
Their current performance art explores body modification and bloodletting as a medium. Finn is in a constant state of dialogue with the world around them, and they view every aspect of their life as either research or performance. Some themes and topics they are interested in right now include the anthropology of self-mutilation, stinging nettles, occultism, oxymorons and incorporating BDSM into spiritual ritual. Despite their eclectic fascinations and artistic mediums, Finn's work remains stylistically distinctive and thought provoking, as they combine the surreal and whimsical, with the profound and extreme.
Finn will be screening their short film; 'Muntjac' accompanied by a short performance.
Finn's performance will explore the importance and symbolism of water and the life cycles that it upholds. Using imagery of eels, a mysterious and nocturnal creature, the performance will play with the ancient symbol of the uroboros, representing eternal cyclic renewal. The performance brings together notions of reincarnation, with messages regarding the decline of natural habitats, with the hope to bring people's attention towards conservation issues, whilst maintaining a macrocosmic attitude to the larger cycles of rebirth that our planet goes through.
https://www.instagram.com/daaddy.longlegs/
https://www.instagram.com/muntjac.film/