29 Jul

Jake Kobrin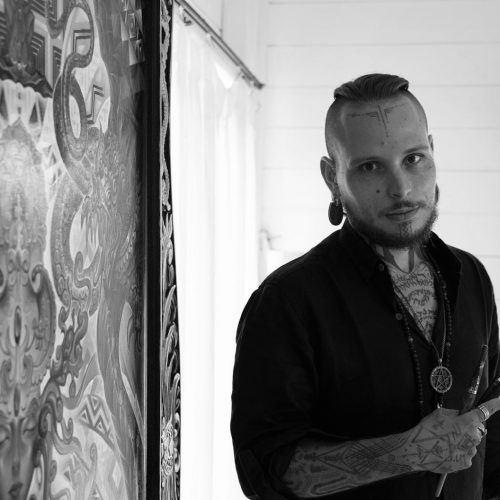 In this lecture, visionary artist Jake Kobrin traces the interconnected histories of art and occultism, and examines how art and creativity has been utilized as a creative process both historically and contemporaneously.
Through this talk Jake makes the assertion that art is a fundamentally magical endeavor, and can be, and has been utilized for intentionally occult processes such as enchantment and evocation for as long as humans have endeavored to create art.
He will guide the viewers on a journey using slides from many aspects of art history tracing the development from early cave paintings, through the renaissance, through early figures such as William Blake, later heroes like Austin Osman Spare, and eventually culminating in examining contemporary visionary and occult art cultures.
Jake Kobrin is multidisciplinary artist, primarily known for his psychedelic and esoteric paintings of complex and precise detail.
His work explores the interplay of shadow and light, both in the delicate modelling of the forms of his pictures but also in the character of the subjects he portrays, showing a willingness to embrace all aspects of emotion from revelation and peace, to fear and disharmony.
Also a practicing "magician," his work explores influences from the Occult, Mystery School, and Mystical traditions of Western Esotericism as well as the Eastern spiritual traditions of Buddhism, Hinduism, Animism, and Tantra.
He is one of the few psychedelic artists with a formal classical art education, having studied classical realist drawing and painting in Florence, Italy at the Angel Academy of Art.
In addition to painting, Jake is also a teacher, podcaster, writer, tattoo artist, musician, DJ, and designer. He currently lives in Ubud, Bali and grew up in the Redwood Forests near San Francisco, California.
https://www.instagram.com/_.kobrin._
https://jakekobrinportal.com/https://magick101course.com/
https://baliartmagickretreat.com/