21 Jul

Mariia Snebjørk Damkjær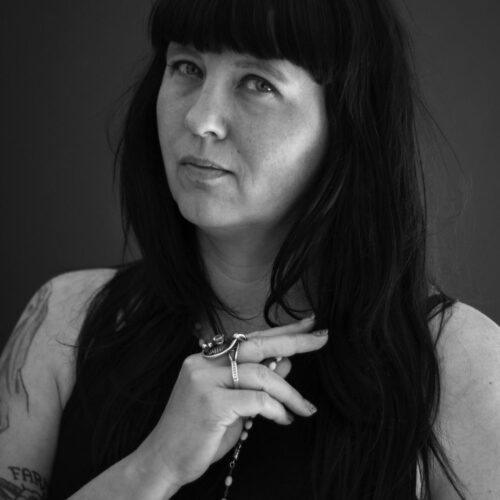 Tarot: Ancient Magick for Today's Binge-Watcher
How can an analog deck of cards help you navigate in the modern world of none-stop online binging-watching and an average attention span of just 8 seconds?
Welcome to an enlightening lecture where we embrace the mystical world of tarot and uncover its relevance in our modern lives. Join Mariia Snebjørk Damkjær, a self-proclaimed tarot nerd, as she shares her personal experiences and insights on how tarot can add some analog and magickal spice to our everyday existence.
Leave your skepticism at the door because this isn't your typical tarot lecture. We're here to keep it real and down-to-earth. Mariia will take you on a journey to demystify tarot, showing you how it can be a practical tool for navigating life's twists and turns.
Prepare for a humorous and candid lecture that sets the stage for exploration in gaining a fresh perspective on how these symbolic elements relate to your own unique experiences.
We'll talk about how asking the right questions and creating meaningful spreads are essential to a rewarding tarot practice. Learn some tricks for formulating mind-boggling questions and designing spreads that speak directly to your soul.
We'll also talk a bit about intuition. Mariia will delve into the realm of that gut feeling we often brush aside, sharing a few practical tips and techniques to help you tap into this incredible resource. You'll leave with newfound confidence in your ability to connect with the cards and trust your own inner wisdom.
Throughout this lecture, Mariia will equip you with a bag full of practical tools, creative ideas, and abundant inspiration to establish your very own tarot practice. Whether you're a curious novice or an experienced tarot reader, this is your chance to gain fresh insights on these mystical and transmundane cards.
Tarot isn't just for the fortune tellers and crystal-ball gazers of yesteryear – it's for the binge-watchers and modern seekers like you. Ready to unleash the ancient magick of tarot, guiding you with unwavering confidence through the rollercoaster of modern life? Consider this your personal binge-worthy series, where each tarot card holds the key to unlocking your destiny.
So open your mind, relax, and get ready to embark on a tarot journey that will leave you entertained, inspired, and ready to infuse magick into your everyday existence.
Mariia Snebjørk Damkjær, based in Copenhagen, Denmark, is a tarot reader, writer, occult nerd, event organizer, multi-creative designer, and intuitive entrepreneur. With a degree in marketing and communication design, Mariia finds inspiration for her metaphysical practice from both the traditional occult teachings and the mesmerizing realms of Instagram and TikTok.
Mariia's tarot guidance and teaching are marked by candid insight, tough love, and a dark sense of humor. She wholeheartedly supports seekers throughout their journey, whether hosting witchy tarot events at the Copenhagen Occult Club or providing tarot readings, digitally or in person.
As a tarot lecturer, Mariia honors the tradition while making it relevant for modern students of cartomancy, creating a safe and inclusive space where instinctual, unconventional, and deeply personal interpretations thrive.
During workshops, Mariia promotes a down-to-earth approach, rejecting rigid rules or absolute truths. Instead, she guides seekers to tap into their imagination and sixth sense, sharing her intuitive, straightforward, and occasionally humorous perceptions of the cards. Her ultimate aim is to bridge tarot with the realities of everyday modern life, inspiring and guiding seekers to awaken their inner fire, explore emotional depths, and develop a personal perspective for each card.
Beyond her role as a tarot lecturer, Mariia is a co-founder and host of the Copenhagen Occult Club, organizing monthly witchy events and tarot workshops. She has authored the guidebook for Earth Magick Tarot in collaboration with American occult artist Daniel Martin Diaz and co-created the Enigma23 Lucha Libre Tarot deck with Danish artist Zven Balslev/Cult Pump. Mariia is working on her third tarot project –a modern elemental tarot deck and workbook titled Dark As Day. Additionally, she serves as the resident tarot reader at the esoteric shop, La Diosa, in Copenhagen.
Instagram: https://www.instagram.com/youluckydevil_tarot/
Website: https://www.lobstermoontarot.com/