30 Aug

Melissa Artemis Shemanna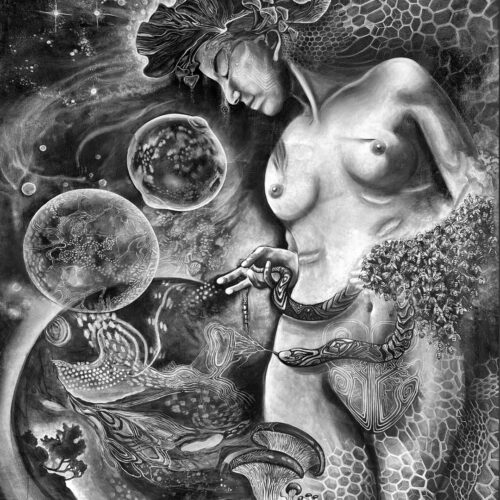 Melissa's artwork resides at the intersection of visionary imagery, mythic symbology, and ancient esoteric wisdom, evoking profound emotional responses in viewers and inviting a deeper understanding within mind and body. Employing traditional techniques and handcrafted pigments, Shemanna imbues her creations with a timeless, painterly allure. With meticulous attention to colour, luminosity, and cosmological significance, she weaves a captivating narrative that transcends temporal boundaries.
Through her prolific artistic repertoire, Melissa delves into the enigmatic sphere of occult cosmic intelligence, unearthing the evolutionary facets of the human spirit and its innate capacity to shape the will of the universe. Every stroke of her brush and artistic expression becomes a profound exploration of these fundamental themes. With a skillful metamorphosis of organic forms and ethereal imagery, she transports viewers to a realm pulsating with potent visions and transformative spiritual revelations. Her art serves as an enduring testament to her lifelong commitment to the pursuit of esoteric wisdom, mythic symbology, sacred texts, initiations and the insights of the occult from various cultures.
Melissa Artemis Shemanna is an Australian artist, arts curator, Yogini, explorer and practitioner of the mystical, esoteric and occult realms. Born in Sydney, Australia in 1976, she grew up surrounded by the beauty of the south coast beaches and the diverse cultural scene of Sydney. Driven by a deep spiritual connection to the numinous, and an innate longing to unveil the mysteries and explore traditional esoteric knowledge, she acquired a mountain retreat in the breathtaking Yarra Valley. Over a period of twelve years, Over the span of twelve years, she transformed this abode into The Honeybee Temple—an ethereal sanctuary that served as both an Arts Foundation and Esoteric Embassy.
In January 2022, Melissa embarked on an international journey, carrying her latest series of oil paintings to Europe and the United Kingdom. She achieved a notable solo exhibition called "Starfire, Rites of Passage" at the Open Studios Gallery in Hackney Wick and has also participated in various exhibitions in Belgium and the UK.
While primarily self-taught, Melissa honed her artistic skills through dedicated self-study and sought wisdom from esteemed painting mentors, drawing inspiration from the lineage of Ernst Fuchs. Melissa studied with inspiring artists from that lineage such as Amanda Sage, Wolfgang Widmosa, and Laurence Caruana, who all played a pivotal role in shaping her artistic practice and philosophical outlook.
In 2018, Melissa founded The Honeybee Temple Arts Foundation—a beacon of creative ingenuity and esoteric exploration. Symbolised by the honeybee totem, Apis Mellifera , the private foundation acts as a pollinator hive for collaborative community of artistic & magickal endeavours.
Melissa continuously embraces new opportunities to showcase her paintings, and to teach in the self seeded Nectar of Life Yogic tradition. Her original paintings are held in private collections across Australia, the United States, Romania, Bali, Hawaii, the Netherlands, and Italy.