29 Aug

Safa Mirror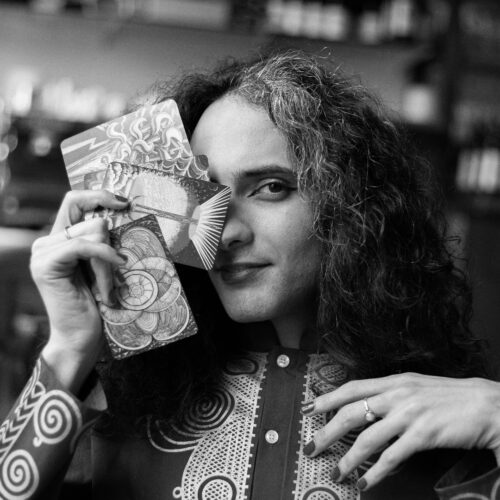 Aleister Crowley's Method of Divination by the Tarot
In this workshop, participants are invited to delve into the complex layers of the "Opening of the Key" tarot method under the expert guidance of Safa Mirror. By harnessing a trinity of methodologies – Jungian Synchronicity, Western Esoteric Studies, and Decolonization & Queer Theory – attendees will develop a profound grasp of this transformative divination technique.
The workshop initiates with a comprehensive introduction to the three core methodologies, establishing a holistic foundation for understanding the "Opening of the Key" method. This introduction paves the way for an illuminating journey that intertwines ancient wisdom with contemporary perspectives.
At the workshop's core lies an exploration of the divination chapter within Crowley's "Book of Thoth." Safa intricately dissects Crowley's instructions for the "Opening of the Key" technique, providing a demonstration of historical interpretations of each operational aspect. The workshop analyzes notable figures such as MacGregor Mathers, Israel Regardie, Paul Foster Case, and contemporary practitioner Paul Hughes Barlow, fostering a comprehensive dialogue on the technique's evolution over time.
Throughout the workshop, participants actively engage in the operations, enabling a hands-on and immersive learning experience. Following the demonstration, Safa welcomes questions, nurturing an open environment that encourages exploration and clarification.
As the workshop concludes, participants depart not only with a comprehensive grasp of the "Opening of the Key" method – intended for students of the Adept Adeptus Minor grade in the R.R. et A.C. – but also with practical knowledge primed for integration into their magickal practice. By acquiring nuanced insights into the method's evolution and receiving detailed step-by-step guidance, participants are empowered to seamlessly incorporate this technique into their personal divination or ritual practices.
Safa Mirror is a trans-disciplinary artist, researcher, and Tarologist passionately exploring the confluence of art, technology, and mysticism. Armed with degrees in Engineering, Cinema, and Theater, Safa's artistic journey has spanned Iran and Europe, immersing her in performance art, digital media, and esotericism. She currently contributes her expertise at the 'Embassy of the Free Mind' museum in Amsterdam, a repository of Hermetic philosophy, dedicated to illuminating centuries-old hidden wisdom for public enrichment.
Having initiated her artistic voyage in Tehran and later on in Amsterdam, Safa's dedication to her craft involves translating ancient wisdom into contemporary relevance, employing AI technology and performance art to reframe age-old teachings. This pursuit, alongside her emphasis on decolonizing Western Esoteric traditions and interpreting the symbolic Sufi Persian poetry – particularly Rumi and Hafez – manifests her dedication to breaking boundaries and nurturing inclusivity.
Safa's practice as a Tarologist centers around Frieda Lady Harris and Aleister Crowley's Thoth tarot deck. Her methodology blends history, esoteric studies, comparative mythology, queer theory, Jungian psychoanalysis, and dramaturgy. Drawing guidance from Crowley's seminal work, "The Book of Thoth," Safa employs the "Opening of the Key" divination technique – through which she skillfully orchestrates Magickal Synchronicities, intricately weaving together the threads of subjective Tarot readings and objective life occurrences. In doing so, she invites individuals to discover profound meaning within the tapestry of coincidences, encouraging a deeper exploration of the interplay between the mystical and the mundane.