13 Sep

Santa Sangre Body Rituals, Letizia Iman, Charuk Revan
Santa Sangre Body Rituals, Letizia Iman, Charuk Revan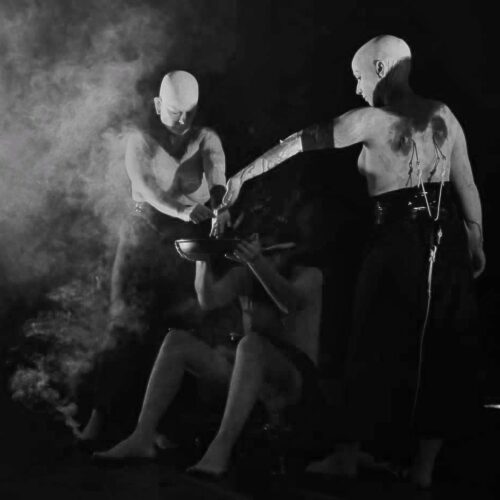 Growing roots is a prayer over my bones
The rhythm of the life force pulsates in the cyclical dance between creation and destruction.
It is the force that tears down old structures so that new ones can be built.
In the act of sucking up the blood of the earth,
Roots reflects a connection with the above, a recalling of the invisible.
Stretching between unity and division,
Two bodies explore the polarity of forces on a vertical axis.
The chanting guides the interaction, in which body suspension and Butoh merge.
Letizia Iman is a multidisciplinary artist who works primarily with performance art, Butoh dance and photography. The main focus of her work is on the exploration of the body as a tool of physical and spiritual transformation and the investigation of altered states of consciousness during the gnosis process.
IG: @Letizia.Iman
       @ow0.0xo
Darkam co-founded Santa Sangre Body Rituals in 2015 with her partner Beto Rea, as a body suspension and performance project, with a particular emphasis on  the transformative and spiritual aspect of the experience.
Darkam is also a visual artist, working with illustration, graphic novels and tattoos.
Ig: @santa Sangre body rituals
      @darkam arcadia
Charuk Revan stands as a co-founder of Paganland, an Iranian duo fiercely committed to the preservation, evocation, and rekindling of the long-forgotten soundscape that once echoed through the ancient rites of the decimated realm of Iranshahr. Her academic journey led her to the hollowed halls of Tehran University, where she honed her expertise in classical Western music, specializing in piano.
This music piece from Paganland is formed on the ancient mantra found in Yajurveda,the vedic sanskrit/avestan text, chanted by the priest while performing the fire ritual(yajna/yasna). Fire is related to figure Prometheus/Shiva who is the destroyer and life bringer.
IG :@charukrevan
@paganlandofficial