25 Jul

Vanessa Sinclair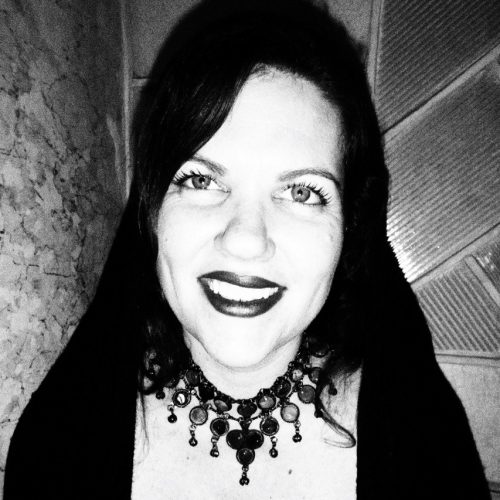 Embracing Your Own: Creating a Personal Pantheon of Blood & Adopted Ancestors
My practice is personal and very much of my own creation. It revolves around necromancy. Not in any traditional sense, as in studying grimoires and structured systems of legions of daemons/ angels, but rather by working with my own blood and adopted ancestors.
Through a discussion of my personal magical trajectory, visionary influences and particular practices of art and witchcraft, my intention in this talk is to impart the importance of developing one's own unique practice by nourishing relationships with the dead.The ancestors of your bloodline, but even more so your adopted ancestors: those artists, writers, friends, mentors and magicians who have influenced and inspired you. Those who have had a lasting impact on your life and personal development, especially your magical and creative formation.
By venerating your ancestors of blood and adoption and working with them directly through innovative magical and artistic practices, you will create a distinct mythology and personal pantheon of your own.
Vanessa Sinclair, PsyD is a psychoanalyst, author, artist and occultist based in Sweden, who works internationally. She is the host of Rendering Unconscious Podcast and founder of the Psychoanalysis, Art and the Occult series of events. She is a Senior Research Fellow at the Global Centre for Advanced Studies (GCAS) – Dublin, and a founding member of Das Unbehagen: A Free Association for Psychoanalysis – New York.
Her books include The Pathways of the Heart (2021), Scansion in Psychoanalysis and Art: The Cut in Creation (2021) and Switching Mirrors (2016). She is the editor of Psychoanalytic Perspectives on the Films of Ingmar Bergman: A Freudian-Lacanian Lens, forthcoming from Routledge (2022), Rendering Unconscious: Psychoanalytic Perspectives, Politics & Poetry (2019), Outsider Inpatient: Reflections on Art as Therapy (2021) with Elisabeth Punzi, On Psychoanalysis and Violence: Contemporary Lacanian Perspectives (2019) with Manya Steinkoler, The Fenris Wolf vol 9 (2017) and The Fenris Wolf vol 11 (2022) with Carl Abrahamsson.

http://www.renderingunconscious.org
http://psychartcult.org
https://www.patreon.com/vanessa23carl
Social media:
https://twitter.com/rawsin_