10 Oct

Zarahlena & Ashes from the Void
Zarahlena & Ashes from the Void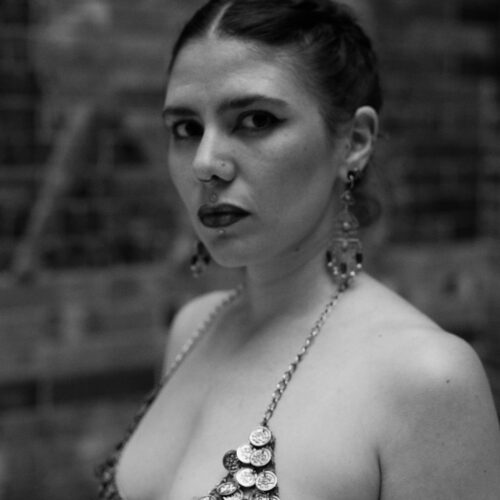 Sound Alchemy and Mystic Harmonies:
A Journey into sound and meditation
Embark on a guided meditation led by Zarahlena, accompanied by captivating live drone soundscapes performed by Ashes from the Void. These evocative vibrations, enriched by Pranayama and focused concentration techniques, invite you to delve into a profound meditative state.
Embrace the mysterious allure of the unknown, allowing shadows to unveil the mysteries residing within us all. This fusion calls upon you to descend into the depths of the subconscious—an enigmatic expedition veiled in darkness, where whispers of the arcane echo through the corridors of your soul.
The auditory landscape is enriched by the resonating vibrations of a gong, each strike sending ripples of sound that wash over you, clearing the mind and soothing the soul.
No prior knowledge is necessary.
Feel free to bring a pillow, blanket, or anything you need for your comfort during the event.
Zarahlena
Zarahlena is a Mexican-German transdisciplinary artist, actively engaged as a devoted yoga practitioner, instructor, and activist. With 14 years of dedicated practice in yoga and meditation, she has been teaching in Europe and Mexico for nearly 6 years, holding certifications from Yoga Alliance, Instituto Mexicano de Yoga, Berufsverband der Yogalehrenden in Deutschland, and Yoga Circle Berlin Academy. Zarahlena has pursued knowledge under the guidance of various international teachers. Recently, she delved into profound subjects guided by Sri B.N.S. Iyengar, the last living student of Sri T. Krishnamacharya.
She's known for organizing yoga and meditation sessions infused with live music and collaborating with artists like Baltimore-based Revvnant (The Satanic Temple). Currently, she conducts open and private classes, and workshops for yoga students in teacher training. Zarahlena's artistic journey revolves around embodiment, utilizing her work as a canvas for creative, spiritual, and societal exploration. Her specialization lies in ritual and ceremonial performance art, exemplified in her recent awe-inspiring Autumnal Equinox ritual dedicated to the feminine energy and to Ishtar, held at the iconic Ishtar Gate in the Pergamon Museum.
Her practices are based on the principle of honoring darkness as something sacred.
Web: z-lena.com
Instagram: @z-lena_ @zlena.yoga
Ashes from the Void
Ashes from the Void is the creation of Mexican visual artist and musician, Javier S. Sañudo also known as Vrohdo. With an extensive musical journey spanning over 20 years, Javier has been an active figure in the underground music scene across Europe and Latin America. His musical endeavors have primarily explored genres like death metal, doom metal, black metal, and hardcore. Influenced by iconic bands such as The Kilimanjaro Darkjazz Ensemble, Bohren und der Club of Gore, Godflesh, Lustmord and Sleep, his latest project, Ashes from the Void, is an exploration of dark ambient music—a sonic realm crafted to evoke meditative experiences through captivating soundscapes.
Currently, Javier holds the role of bassist in the Berlin-based post-black metal band, Matchuha.
Instagram: @ashes.from.the.void @vrohdo47